So what's new?  Just finished a late run on the treadmill.  It's freakin' cold out today and my internal temperature said no…hell no…to running in it.  so I opted to read my book while I ran and the Lord said it was good.  Okay, he may not have because he's really busy but whatever.  He sees the little sparrow!  So there.
Anyway…5 miles done. No rhyme or reason, just did the 5.  As I creep closer to the half marathons I like to see the mileage go up a bit.  I don't trust myself.  Foolish, I know.
I just finished Letters From Home by Kristina McMorris.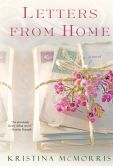 Source
I really enjoyed reading this book though I'll say I love historical fiction.  This was an easy read so I could follow it on the treadmill no problem (no Oprah's book club there, Lord knows).  It centers around three young women and the directions their lives take during World War II.  So many expectations for young women then, to marry and start families.  And of course, what woman doesn't fall for a man in uniform? The book does it's job reminding us the men are handsome and heroic but the war was ugly and brutal.  Many didn't come home.  Lives were changed by love and loss.  These were three strong, independent women.  They didn't just do what convention called for.  Again, not a tough read but good.  ~Teresa