'Cause…it's fabulous.  Just throwin' that out there.
Reggie and I went for a run in preparation for the big half marathon next week.  Our last long run.  Reggie's only long run in Lord knows how long. Girl has struggled to find time and I have been mercilessly harassing her.
She is such a positive person to have in our lives.  I stop constantly and am working on not apologizing as much as I stop.  Today I failed at that.  But in the future, I'm working on it.  For sure.  She never has a problem with it.  She usually just stops and admires the scenery.
Reggie:  Aren't the fall leaves beautiful?
Me:  ::gasping:: uh huh.
Reggie:  Such a perfect day for a run!
Me:  ::gasping:: uh huh
You get the idea.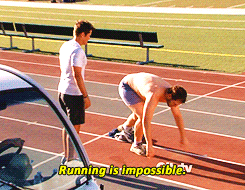 source
~~~~~
Regina  tried a Gu today.  I use them on a regular basis for races.  That or Gummies.  Reggie did not enjoy hers.  It gave her an upset stomach.  Totally happens to some people.  Gummies it is I guess.  Maybe Swedish Fish.
~~~~~
I finally got around to registering for the Rock n Roll Denver Half Marathon.  It took until today and the bonus was the $13 I got discounted for registering on the 13th.
This is the last thing I'll say about this and then I'm done (I told my husband this same thing because I know Ya'll are sick of my ranting about corporate/RNR races).  They gave me a $13 discount and turned around and charged me a $13 fee to register.  You cannot make this up.
So wrong I can't even tell you.
~~~~~
This is October 13, 2013.  A fabulous day I might add.  Unfortunately, on the eve of October 13th, I found out entirely by accident the Equinox Half Marathon had been rescheduled since the flood, to today, the 13th.  It never came through my feed or any of those billions of emails I get on races in the area so I was seriously sad to find out not only was the race starting in 8 hours, but I could not register on race day.  I hope everyone else had a good time though and maybe I'll run it next year.   I've had good luck this year with some quality experiences, I cannot complain.
~~~~~
Run on People…and run where your heart is. The streets, the trails, the sidewalks, the parks.  Run it all.