Okay…Ya'll know it won't be quick.  Sorry.  I DO try to cut it back. You should see my editing!!
Sean and I toyed with ditching the race but we went anyway.  It was cold.
I waffled more than I ever have before on what to wear.   It's cold.  COLD. (And MT road his bike to his Muay Thai…holy icicles, Batman.
This was 6:30am and at race start at 8:30am it was 28* accordingly to Siri.  The girl standing next to me told me 😉
Hello People…
It was REALLY cold.
But I knew it would warm up to almost 60*.  That's gonna be warm.
I ended up taking several jackets in case I changed my mind.  *spoiler* I changed my mind.  Was SO glad I did.  It was chilly the whole race.
*there was packet pickup at the race…thank the Lord*
We walked about 3/4 of a mile I think over to Boyd Lake to the race start and before I know it I hear "GO!".  Holy smokes.  I kiss my sweet husband who walked with me in the cold the whole way and started off.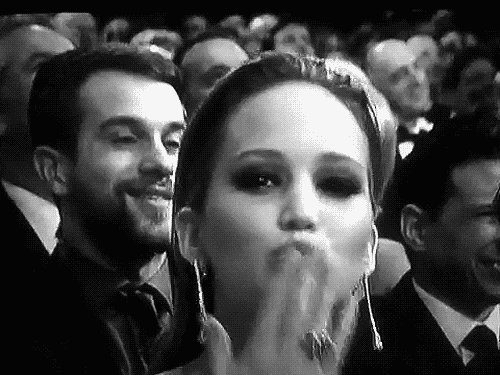 source
(note:  it happened JUST like this, except I was dressed in running clothes, he actually kissed me, Jennifer Lawrence is freaking gorgeous and  we were outside at Boyd Lake in Fort Collins instead of some award show,…hmm..yep.  Otherwise, just like that!  Don't you feel like you were THERE? I'm reliving it now)
This is also when I did the math…no chip timing.  Damn.
My Garmin couldn't find a satellite.  Apparently too much open space. 😉
Garmin didn't work.  It was on crack.
The race went around Boyd Lake and here's where the problem started.  It's little pea gravel and my weaker ankle did NOT like it.  It was twisting and unstable and as I ran I struggled to keep my footing.  We did that twice.  There were other points on the course that were similar and my leg was pretty unhappy early on.  It ached early in the race.  By the later miles (mile 9) I noticed my gait had changed.  This is pretty telling and had me worried.  At mile 11…it was bad.  I was limping while I ran, giving a lot of weight to my left leg and at one point considered not finishing.  It hurt bad.  I didn't ever "walk" I just hobbled and then started the slow jog/hop thing.
I was at a good worry.  I've DNF'd a marathon before.  My pride does not come first.  My goal is to run forever.  Not just today in this little race.  It's not worth it.  I was pretty close at this point and just hobbled in but all those people I passed?  Yeah….they passed me with a million "almost there!" comments.  Remember that whole…not competitive thing?  I didn't love that.
Plus I ran really well the whole race, never hit the wall, never got tired, never struggled with the breathing thing and made it up all the hills!  What the hell?
Grabbed some ice and came straight home with drugs.
My leg hurts.  A lot.  And my other leg hurts because it carried me.  Plus I look ridiculous not only walking but trying to do stairs.
Sean has been awesome. Took me out for my "I lived through it" cheeseburger.  So delicious.  And went to the grocery store when I slept on my predictable migraine.  He's too good to me.  I should feed him.
I'm taking it all in stride (no pun intended, no really), but I am anxious to begin the healing process.  I don't like being out of the game.