Still deciding what I want to do for my 13th race.  I'm rather deflated now.  Ending on a virtual.
I found a fabulous race in California I'd love to run and Sean is of course, totally willing to go with me.  It's this weekend and I'm SO tempted to just do it.  I am totally that person.  Jump on a plane just for a race.
So I had the race.  I had the tickets chosen.  I'd talked Sean into it (yeah, that involved a text, so wasn't hard). And I was good to go. Then I saw an ad…
It's Christmas so the airports are insane, traveling is crazy, my kid may be moving this weekend and I KNOW she could use our help and with what I spend on a weekend trip to California I could have new floors in my livingroom.
So there you go…the ad screwed with me and it all played with my head and before you knew it, five minutes later I was measuring the livingroom and looking up flooring on the computer.
You can imagine what it's like to live with me. Bright side, I don't (usually….really…I don't) make decisions that quickly.  I swap subjects but then I think about it.  And yes, still thinking.
MT wants me to go.  He is clearly related to me.  Hopping on a plane and being spontaneous…totally my first choice.  But man, we are so in need of upgrading this little house.  I think I'm leaning in that direction…heavily.
Kinda bummed though. California sounds fun. 🙂
~~~~~
So today I tried to gain control a bit. I worked on my lists and my packages…my laundry and my shopping. All without venturing into the big bad cold world.
It won't work tomorrow though…I have to go to work. Sadness.
For Christmas I want a transporter.
Beam me up Scotty~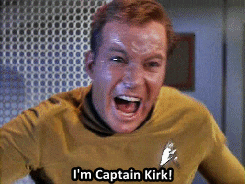 source
It was the best I could do.  It's really late and I can't find the one I'm looking for so we'll all have to settle for Angry Kirk.  It's a little wrong, I know. 😉
~~~~~
Hopefully tomorrow I finish most (if not all) of my list ~swoon~ a girl can dream.  And then come home and hop on the treadmill for some relaxing miles.  Yes, I do think it can be relaxing to run on the treadmill.  It helps if you watch a movie or read a book.  Just running quite possibly will kill you with the boredom of it all.
Run on and for heavens' sake stay warm and safe today.  It's cold as hell out there People.