How about all three?  Good Lord it's a wonder I get anything done at all.
Example of the way my brain works:
We watched The Rookie this morning on DVD in the kitchen.  When it finished, I got up to take it out and thought,
I'll go pick out another movie.
Saw the spoons on the counter and remembered I needed to stir up the chicken in the crockpot.  Stirred chicken.
I think something is missing from the recipe.
::go to computer to double check recipe:: Worcestershire Sauce.
Leave computer and walk towards the fridge and see the television again.  Oh that's right.  I was going to get a movie.
Head upstairs to get a movie and see an empty laundry basket.  I was going to strip the bed and wash the bedding today.
Strip bed and put in laundry basket.
Stop in spare room to look for a movie.  Find one and come downstairs to put the movie  in.
Remember the crockpot…
Add an ingredient to crockpot…can't find the other ingredient.
back to computer ::Searching web now for substitute::
Let dog out.
Get sucked into the movie
Add  ingredients to crock pot.
Let dog in.
Wash dishes.
Answer an email to a friend.
Let dog out.
Was I doing something?  See the laundry basket near the stairs…yes. Putting laundry in.
Get up to take care of it.
Let dog in.
Laundry in.
Dishwasher loaded.
Let cat and dog out.
Teeth brushed.
FB messages answered.
Movie is 2/3 of the way in.
Finish blog post I started and walked away from seven times.
Let cat in…dog says he wants in but really just wants the door left open.  Um…that's a helltotheno Mr. Puppy Pants.  It's like…30* out there. Close door on puppy eyes. ::cold frozen heart::
Catch a glimpse of towels in the corner of my eye.
Stop and fold towels.
Open door for dog.
Open door for dog.
Open door for dog.  Dog continues to scratch and then not come in. 🙁
Movie is over.
Treadmill time…how long will it take me to time manage myself onto the treadmill?
I am afraid to even think….
oooh.  I bet the washer is done… I should transfer that stuff.
I know you were wondering…Yes, the dog is in now.  Like I'd leave him in the cold… 😉  Clearly we know who runs the house…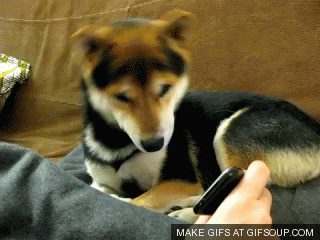 This guy could be MY guys little brother.  SO SWEET.
*disclaimer:  This post is in no way intended to make fun of a serious illness.  I truly believe I have this issue, I come by it honestly.  My mom, my dad, my sister….we all suffer from it to some degree.  Most days it's easier to make light of it but I mean no disrespect.