1.  It's Valentine's WEEK!  
2.  My old supervisor came over and spent the week with us and even though it was just a week, I had such a good time catching up with her and she makes every day just a little more fun.
3.  Pretty good running and workout schedule this week. I even did a kickboxing class.  Yay me.  🙂
4.  I gave up Soda last Sunday.  I am admitting that publicly now.  So I am now six days soda free.  I've given it up before but only for a few weeks.  It wasn't important enough to me because I really love soda and I don't drink a ton of it.  I could go a day with only a third of a bottle.  Some days…I drink the whole bottle.  It depends on the day.  But now that I have to be so strict about what kind (remember, no caffeine AND no artificial sweeteners) …well I just refuse to drink my calories.  So…there you go.  Frankly, it's just not good for you and it's a pain inthe butt trying to find the stuff that works for me.  So I gave it up.   #sixdaysandcounting
5.  Flooring shopping!!  I'm thisclose to making a decision.  Pretty excited about the options out there.
6.  Alex called this morning!!!!  Sadly we had to make it short as it was $2.50 a minute.  Yes folks.  That's $2.50 a minute.  We talked for $25 this morning. Holy cow.  That's like…a half a pair of shoes. You can click the Paypal button below to contribute to the "please let me speak to my son" fund.  Just kidding.  LOL . But that idea DOES have possibilities.  ::evil genius thinking::
7. Miss Andrea and I are going to attempt some healthy eating.  She'll be awesome.  I'll be probably not bad. We might have more success if we do it together.
8.  I ran a ton of little errands this week that I've been putting off but pushed through.  Even with the crashes…I still managed to get myself to do them.  #feelingproductive
9.  I was reminded again this morning when I woke up to my sweet husband talking to me…that I am in fact, the luckiest woman in the world.  28 years is a really long time to be with someone.  I keep waiting and life continues to remind me he's amazing. #feelinglucky
10.  Minions and  valentines.  Admit it.  You love the minions, too.  Seriously how could you not?  It's like saying you don't like panda bears.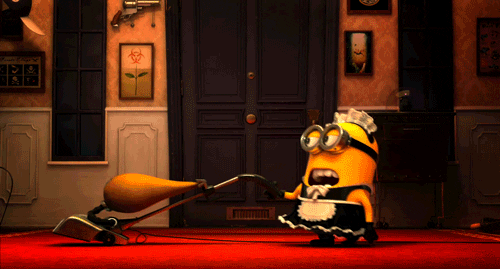 11.  I got a new phone.  I don't know how thrilling that is generally speaking but I really like it and if I could figure out how to answer it, it would be perfect.   #smartphonefail
12.  Hmm…can't believe I missed the obvious here.  It's ABOVE zero degrees!  Yep…super happiness people.
13.  Dinner with a friend tonight!  I haven't seen her in a year and she lives a mile away~