Nah…just kidding.  Still no drugs.
Okay…I did take a migraine med today.  I had a killer headache.  But otherwise, nope. Of course, I don't have any to take! LOL  Okay.
~~~~~
Doctors results today!!
I know…you're all waiting on the edge of your seat.
I tested strong positive for Celiac disease. 
Yep.  Good times, huh?  So now begins the house cleaning.  And I thought it was already clean but now I have to REALLY clean it.  Toss some pans, clean out the pantry, etc. I'll miss gluten but no worries.  We're good at adjustments here so I think we're gonna be good.
I think we're all so relieved to finally have some information to work with.
I will miss cake.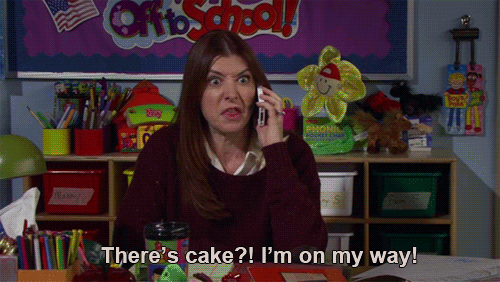 I can still have gluten free cake but it's not as easy to come by.  On the delicious scale though?  Might be the best cake I've ever had.
~~~~~
Did you do your squats today?  Hmm? Did you??
Oh wait. That was me.  It's MY butt that needs to be found.  FINE.  I'll do them.
~~~~~
A little commercial break to talk about my mom.  It came up today at work that she still works. I could go on and on about her but let's just suffice it to say she's amazing. She makes me crazy but she's the strongest, smartest and most kick ass woman I know.  My daughter is next. I'm not even biased. These two together are a powerful force. I'm certain some of that fearlessness was passed on to me and I'll take it.  I'm grateful for it.
~~~~~
Take care of you, be it exercise, food, spirituality or emotional health.  After all these years of my wacky eating self, I can definitely say this,  I know what I need when I need it.  Everybody's body is different and what I may need may not be what you need.  None of us fit in a "box" of this is how you should eat or live.  If I have to retrain a little I will but I'll never be someone that eats a lot or even anywhere near normal.   My stomach doesn't like it and my body doesn't like it.
One step at a time.  I think we took a giant leap today!  We're excited to see where it's going to lead. Yep…there's going to be challenges but hell, I'm my mother's daughter and Daddy's girl.  With Sean and the kids helping  I think I've got this down.
~~~~~
I hope you're running!  I'll leave you with the First Lady's Let's Move campaign that has the President and Vice President following through on a her promise to Jimmy Fallon!  Nice to see.
On Thursday night, First Lady Michelle Obama joined Jimmy Fallon during his first week as host of The Tonight Show to officially kick off the celebration of the 4th anniversary of Let's Move!.

That's why the First Lady wants you to show her how you move to be healthy – through making better food choices, being physically active, and making healthy changes in your community – via social media using #LetsMove. Tweet it, Instagram it, Facebook it! And the First Lady said that if enough people show her how they move, we might be in for a little surprise.

What is the surprise? The President and Vice President might just show us how they move too!