I feel better today and am thankfully going to work. One of those days I'm SO grateful I don't work full time.  My migraine disappeared early last night but it must have missed me because it's back so I'm drugged up a bit.
My nose is so raw I can't even tell you.  I live for Neosporin and vaseline.
My dark circles have dark circles.
I look SO HOT.
The body aches seem much better today. Yesterday they surprised me and really it was a symptom that was totally unwelcome. That confirmed it was in fact, not allergies.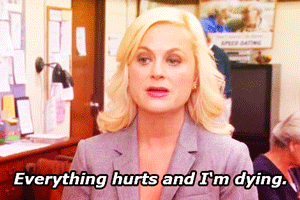 And my ears hurt.  I have a history with ear infections and hearing loss so that one is freaking me out a little bit but so far it seems manageable.
I would like to state this is only a cold and I'm being a complete baby. Just in case anyone was wondering.
Sorry for the bad word…I didn't see it until I already posted it and…well…I'm tired so you get what you get. LOL
Rest on Friends.  Or run. Do what feels good today.