Last night I opened the refrigerator and accidentally dropped a bottle of half consumed Mountain Dew.
Holy nightmare Batman.
Did you feel the earth stop turning?
Sean said, "hand it to me quick!".
Opens it, drinks it and says, "that was flatter than your chest". Deadpan.
Dude!…as I laugh…
Now that was just uncalled for… Funny, brutally honest, and totally true.  But rude…
One of these days he's gonna get smacked when he's not looking.
It'll be totally justified.
~~~~~
I may die from this cold.  It's moved to my flat as that Mountain Dew chest.
According to the rules of running, I'm not supposed to. But I can't stand it and I'm going to anyway.
We'll see how far I get.
I'm coughing…
My throat hurts a LOT…
Unpleasant gook appears…
It's sexy as hell…
I'm still running.
~~~~~
This just happened…
A spider JUST crawled down a web and attempted to situate itself right next to me by the computer.  I hesitated a minute….thinking…huh…flying bug?  Nope…freaking 8 legged livestock.  Dammit.  And no…I was not that calm.
I was more like this:
And then after I frantically smacked it with the kleenex I had in my hand (remember my cold?) I did this: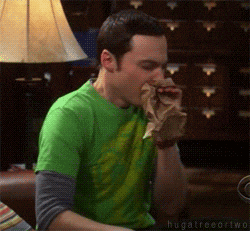 I really have to call my bug guy back. He never blows me off like this so he must have forgotten me.
~~~~~
Here's a mini Sweet List! <3 for Miss Reggie!
1.  I found the most beautiful white dress pants…oh my gosh.  They were on super sale at Express (really the only way anyone can afford anything at Express, right?  I bought size 8's (remember Express vanity sizes) but now I'm in my losing weight phase so I may have to exchange them.  I do like things baggy.  Sean likes things…not baggy. ha.
2.  I got a positive test for Celiac at the Doctor and really there is nothing like feeling you might actually have an answer.  Forward motion people.
3.  I've been to three stores that normally carry gluten free cupcakes and nothing. So I finally bought a cake mix and frosting.  That is definitely happening today.
4.  The weather has decided to cooperate and NO MORE WIND> *Don't worry…I'm not thinking it's forever.
5.  It's prom day and my cute son is off to the dance in a tux.  Pictures tomorrow I'm sure.
6.  Diet Pepsi.  I treated myself. It's okay.  I'm back on the wagon.
7.  I have Old Navy cash to spend.  It's only $20 but I'm a little thrilled.
8.  Shaughnessy and the boy are coming over today to hang with us.  Missing us is a big deal but it's harder when you're away from the little ones. They grow SO FAST.   Eliot loves his Papa Sean so much.  He's the super fun one.
9.  Kleenex with lotion.
Okay I'm done.
Told you it was a short sweet list.
Run on…and enjoy this incredible weather today.  I hope you have it wherever you are.