Yesterday was hard.
Text messages.
Phone calls.
Missing everyone.
*sigh*   It was a bittersweet day.
~~~~~
This was my yesterday:
Drugged up from my migraine that I inevitably woke up with I headed out for a little run.  3.5 miles in 97% humidity.  Montana was not kind to me.
I ordered a beautiful cool morning but forgot to specify no humidity.
God chuckled at that one.
I'm sure he was thinking "challenge is good for the soul, Teresa".
~I always imagine God calls me by my full given name. Like my mom.~
I wore capris and a t shirt and wished desperately for a tank top and shorts.
So. hot.
Not that kind of hot. Geez. ::eyeroll::
100 squats and jumped in the shower…
I have a friend who used to travel for a living.  She once called me and said the shower she had at that particular hotel was so bad if she wanted to get wet she'd have to run in a circle.
I think I have that shower.
Creative showering right there.
~~~~~
Graduation day.
Dressed and ready to go to graduation.
My nephew, Connor, so freakin' cute.  Blew us all away with his charm today.  He has graduated from high school and is off to college in the fall.  No joke, he wants to be a farmer/rancher.  Go Connor… This new generation needs progressive smart farming. I'm so proud of him.
Isn't he cute?  LOL.  I'm sure he'll love that I put him on the blog.  Ha.
~~~~~
The cat.
MT and I chatted last night on the phone about getting the cat in.  That's usually my job and if I don't do it, Sean stays up to make sure he got in safely and the owls didn't get him. He knows I can't sleep when the cat is out. So poor MT was trying to go to bed and the damn cat was not cooperating.  He did finally arrive…like he wanted a red carpet or something.  Ridiculous.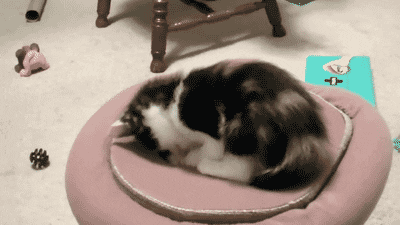 Completely unrelated but kind of fascinating to watch…. 🙂
Today we start our new normal.
The cat is going to have to learn to work with our schedule instead of the other way around. Only the first of many adjustments.
~~~~~
Kicking ass.
My gosh how blessed we are.  My family. How completely and absolutely blessed my family is.
No matter the situation…be it military deployment, job deployment or school in another state…we are still a bonded family that feels every loss and every joy profoundly and together.  We may get frustrated with each other. We may get angry.  The word "crazy" may occasionally be tossed around casually. LOL. But in the end we are all in this together.  Good and bad.
Not every family can say that and I'm really thankful to God that I can.
~~~~~
Must check out now. Off to breakfast with the Moms.  We're checking out an awesome gluten free place she found.  Then to catch my flight home to see my kids…
I absolutely promise to not have months of sad.  But I will probably occasionally say…I miss my husband. Because I always always do.
~~~~~~
Run on … and remember that running can be healing.