Today was pretty awesome.  We woke up at our leisure (wait…aren't we at our leisure anyway? Seeing as we're in the tropics? yes, yes I think we are).  Miss Andrea chose to go swimming in the ocean and I chose to go running.  I headed to the fitness center. It was kind of later in the morning and was already pretty warm.
So…the treadmill at the resort, wow.  You'll take your life in your hands right there.
The room looked abandoned,  and the last person left their coffee in there and several pieces of trash.  There was no water and no towels left.  The television was on the sports channel, no remote and 10 feet up the wall so you can't reach it.
Apparently if I'm a runner that means I want to watch ESPN.
No.  The only sports I really want to watch is soccer  and I watched soccer before it was cool to watch soccer, so there.
So I straightened up the room, took the bag out of the trash, flipped the trash can over and used it as a stool to get up to the television on the wall and change the channel.
Take that,  Management.
Then I got on the treadmill and almost died.
It was a gym quality treadmill.
12 years ago.
The front half of the treadmill belt had nothing under it. It was…squishy almost to the floor.  Yep.  Random. But the back half was fine. LOL.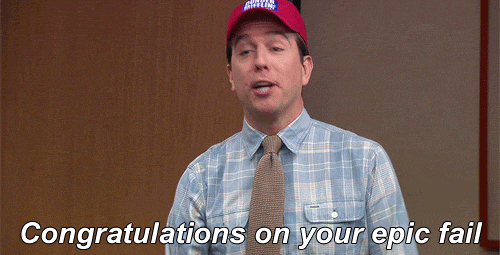 So as long as I ran on the back half of the treadmill I was good.
Four miles done and back to the room.
~~~~~
Miss Cathy (Miss Andrea's friend who lives here picked us up and we went to lunch at the BEST little restaurant.  It was called
Hook Line and Sinker. Yep. I love it.
They were super nice about my Celiac and even knew what it was!!
We enjoyed Mr. Iguana…who totally freaking chased me when I tried to get his picture.  Ugh.  Definitely grouchy. And no…I'm not kidding. Cathy took this awesome picture but it wouldn't show up in my email. So after waiting a half hour I was afraid of missing him. I hopped outside to discreetly get my own picture of him and quietly crouched down.  At which point he turns and chases me!!!  I immediately backed up and screamed but then stopped thinking…he's not REALLY chasing me.  Nope.  He is.  REALLY chasing me.  KEPT chasing me until I kept backing up and eventually went back into the restaurant.  Point taken Mr. Iguana.  Point taken.
From there we went shopping where I bought presents!  I just bought everyone a T-shirt that said  "my mom went to St Thomas and all I got was this stupid t-shirt".
Yeah…I didn't do that.
This is the mall where we shopped.  The whole area is part of the old shipping yards. It really reminded me of San Francisco and the wharf.
And as a final hurrah we went back to meet Cathy and to pass the time stopped in this amazing wine bar.  It had so much charm and character.  I ordered something with Vodka. Partly to be included (it's hard to be Celiac) and partly to be able to say yes or no to the "alcohol does in fact give me migraines" sentence.  I've said it for so long that people question whether or not it's still true.
Our amazing bartender, Fernando (yes, that's really his name), made me a Cosmo with fresh squeezed orange juice and cranberry juice.  So good. I only drank a little over half of it. Once and for all answering the question does alcohol really give me migraines.
took ten minutes…
Yes. yes it does.
oh.my.gosh. the migraine.
I guess we have that answer.
~~~~~
We were walking back on the trail to the room and there was a huge crab.
I'm afraid of crabs now.
Not the STD.
Although that one doesn't sound pleasant either.
Just sayin'.
Who doesn't love Sebastian and Ariel.
By the way…this guy did not look like Sebastian.
~~~~~
Tomorrow I'm going to find an area to run outside.  Or not. I may risk my life on the treadmill again. It's up in the air.
Run on…and run and run and run. 
Love to Sean. You are on my mind Baby.