There's a family history you know.
I mean…I predicted this outcome weeks ago.  Makes me feel pretty smart.
My calf didn't hurt at all for the last two days and I ran those days.
But my achilles is killing me.  Shocking, I know.
Fortunately, I've been down this road before so I think I know what I'm doing.  I threw out some yoga and spent a good amount of time foam rolling and I think it likes me. Just a little.
~~~~~
This morning, Saturday,  very little achilles pain.   I did just a few quick minutes of yoga and foam rolling and then took the puppy for a walk. It's warm and he's not used to the morning walks.  We both were a little toasty.
I found a jaunt on our path I'd never seen before and "hiked" across the stream to a side street.  It was the best 30ft of my walk.
I miss hiking.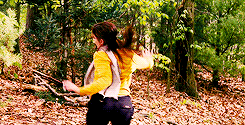 ~~~~~
Today my list is LONG.  I'm feeling pretty good though and going to the gym is definitely going to happen.
Sean gets home in like…22 days.
I'm pretty ready for that to happen.
Oh!  I bought this from a yard sale.
Is it not the CUTEST thing you've ever seen?  So I need to get some chairs for it and maybe some hay bales!!
I am a very cool grandma.
Run on…and the sooner the better.