So the cold kicked my butt yesterday.  I was beat tired.
Eliot visited us for the evening and I didn't have the energy to post or anything.
Today though, I'm a new person.
I coasted the morning away just sitting in the house enjoying having everyone home and then Alex and I went to the gym where he proceeded to kick my butt in strength training. Holy smokes.
I'll be honest. I don't think I'll ever love it but I definitely need it.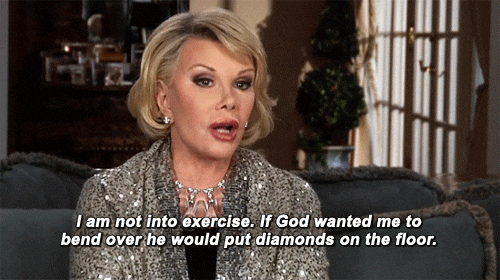 If you replace "diamonds" with cookies..I'm in.
Also, pretty sure I will be SO SORE tomorrow.  LOL.  Totally worth it.
~~~~~
I went on to elliptical two miles and run three.  I count that as five miles. 
~~~~~
Tomorrow morning Shaughnessy is doing another sprint tri and Sean and I are going to volunteer and enjoy the race.
She's awesome for doing this and it's clear she's been bit by the racing bug.
~~~~~
Run on…