I get a lot of questions about what kind of music I like.  That's a difficult question to answer so I'll just post some of my "favorites for life" and some of what I'm currently listening to non stop.
1.  Amazing Grace ~ Il Divo.  I would like this played at my funeral please.   It's so beautiful it makes me want to cry.
2.  One Day ~ Matisyahu.  I don't even know where I first heard this song but I love it so much.  It has feel good and hope in it.
3.  Carry On ~ Fun. This  makes me run stronger. 
4.  It's a Beautiful Life ~ Fisher.  A bad reality show's commercial brought this pretty little song to my world.  I like the song a lot.
5.  A Heart in New York ~ Simon and Garfunkel (I already loved this song….years and years before I went to New York).
6. Scarborough Fair ~Simon and Garfunkel. Their songs have my heart.
7.  Murder in the City ~ The Avett Brothers>  I loved this song the instant I heard it.  I love the whole tone of The Avett Brothers.
8.  Let the River Run ~Knightsbridge.  Probably the only eighties song I like. (NOT a fan of the eighties.  Sorry to anyone who loves it more than pizza). 
9.  I and Love and You ~ The Avett Brothers.  Same as above.
10.  Blessed Assurance ~an old gospel hymn my dad used to sing while he played his guitar. I have it from Alan Jackson. Really good memories and a beautiful song. ~Frances J. Crosby
~~~~~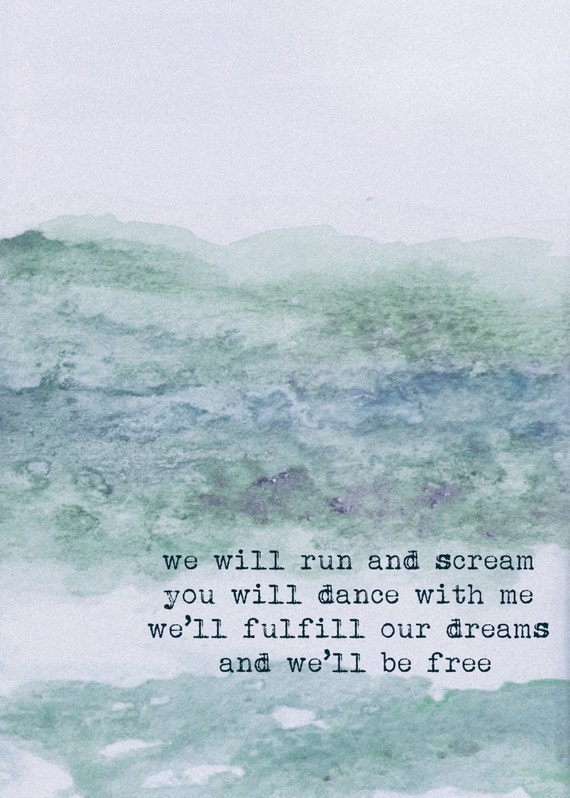 Run on…love your music.