If you were going to run an ultramarathon, what distance would you choose? *an ultra is technically anything farther than 26.2 miles
I've kind of always wanted to do one. But I don't like to do things that are popular so…kind of not, too.  Although I do that marathon thing  so I guess I'm sucked into the trend. #dontspreaditaround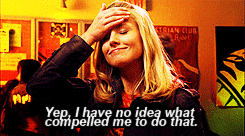 The 50k appears to be the most popular, there are a billion of them. And I'm in the freaking running capital of the world here.
We have some of the most kickass ultras and they are much farther than 50k. I mean, the whole world knows about the  Leadville Trail 100.  My friend's dad has done it a couple of times.
It's an incredible race that has to be completed in under 30 hours (less than half complete it in that time limit) and of course, you must run 100 miles.  Through the mountains of Colorado. At serious SERIOUS altitude.
Now…I think that would be freakin' cool. But there's no way I could complete it in the 30 hours so I just wouldn't even want to attempt it.  I'll admire from afar and put it on my list of things I'd love to do but my body says I don't think so. #nobostonhere
One of my friends, okay, it's Michelle, is trying to talk me into doing an ultra. She's thinking I'd be pretty well trained because of my current fitness level.
I would probably choose the 50k because it is so easy to find.  And also, hello, it's already freaking 30 miles. LOL
I may do it. I may wait until next fall or spring of 2016. I'm already on board for two races in 2015 and I don't want to screw those up but I also think a marathon in 2015 would be good to keep the training up.  And I have a lot more work to do to upgrade my fitness and be ready for that task.  It does sound like my kind of thing though.
~~~~~
Crazy, but on that same note, my friend Kat forwarded me this Runner's World article about an ultra runner (clearly far more talented than I could ever hope to be) here in Boulder who was bit by a rattlesnake. Her story is SO unbelievable. Some people are just gifted with strong.
Read the article. But beware it's a little graphic.
~~~~~
My friend Erin has started writing a blog. It's called Make.Believe. And since she's an incredibly talented teacher, (she's currently teaching ESOL), and she's fluent in Russian. Hello…total envy.  And she has really good taste. In pretty much everything.
She's a runner, a teacher,  she knits (you lose me there) and she posts pictures of her cute outfits and her cute dog!  I love her dog. He's SO pretty.  I told her how impressed I was she was posting photos of herself!  I am so self conscious I never do. She said she was trying very hard and putting herself out there. It's scary!
In honor of Miss Erin, here is my outfit today for work.
~~~~~
Run on…and brave new worlds.