Happy ten days before Christmas!!     
1.  Benched.  Hilarious.  I spent the morning laughing at it.
2.  White chili and cornbread…all gluten free.  I love it. And I love it more the next day. SO GOOD> and um…so HOT.  #notenoughmilk
3. My phone is finally fixed!  two phones down…a new case and a new "phone".  I'm using a case now. yes.  because I learned my lesson?  No…I already knew this would happen. But after the second tragic accident in a week…I figured I'd try to save my family from financial ruin. 
4. We were finally able to get my Jeep worked on, now that we have two cars and I could get a ride to work. So…they didn't do everything (truth be told the first place was awful and I had to take it to a second place) but a lot got done and the rest is getting done this weekend. Hopefully.  
  But we're way farther than we were a week ago.
5.  I got a great package in the mail from my  friend Lorie!  A beautiful ornament which I love.  I love ornaments. Could I please have three Christmas trees?  #notenoughroomforallthejoy
6.  I also got a box of COOKIES.  My friend Kat, who is the kindest person ever, had them sent from a gluten free bakery in her town.  I mean…does life get any better than that? Not only gluten free cookies but I didn't have to bake them!  Yeah. #lifeisgood #cookeisaregood #friendsrock
7.  I made good progress on shopping today.  I mean…I'm not done. But I'm hoping to get packages in the mail on Monday!  #Christmaswish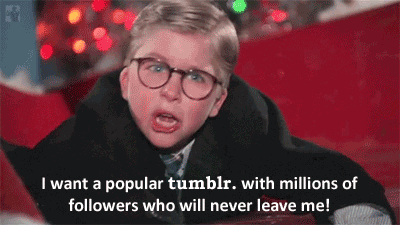 (man, that sounds like a lot of work…)
8.  Can I just tell you how awesome people have been while I was out shopping? SO NICE.  I didn't encounter any Grinches.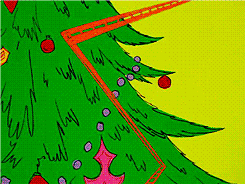 9.  Hangin' out with my little Boy Wonder (secret…I used to call MT that. He was and is a boy wonder) when they had car trouble.  He needed a snack. First the cereal bar. then…with a mouthful of crackers…he declared when he finished that he'd need the granola bar. That was a hungry boy. Also…must touch everything. #curiousgeorge
10.   A secret elf has been cleaning my house.
     I think it's Sean. He unloads the dishwasher, does the laundry…just general everyday straightening and such.  #lovethatman
11.  My head doesn't have me in bed at 6pm tonight! Yep. It's been a rough week. But I'm hoping I can do the treadmill for a little while so I'll feel more normal. #Imissrunning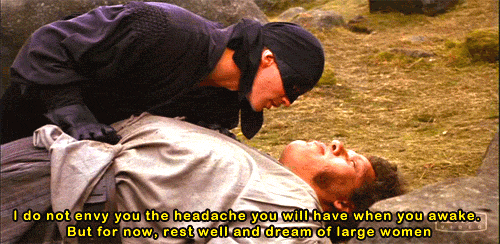 Princess Bride for the win.
12.  Christmas is = to packages in the mail.  Even if I buy them…I get so excited when there are packages!
#easilyamused #kindofanerd
13.  I got my 31 Gifts package in the mail from Miss Erin.  She not only sells these great little products (seriously, so cute…) but she writes a blog and she rocks at teaching ESOL.  Because she's kind and lovely and creative and students just flock to her.  She faithfully reads my blog and likes it ("liking" promotes it to other people, too) and she's even nice about it!  She's never once said to me, "um…that was really boring. Like…what the heck, Tess?"  I love her. She's also like…twenty years younger than me. Fun fact: I've been married longer than she's been alive. Oh…and she's a doctor. Girl has a PhD.  #sojealous
And now I've stolen her photo.
~~~~~
Oh man. Is he in my head or what?
Runners…run on.  And love it. 
 source for Christmas decorations