It's no secret I had a hard week.  Work stress, kids, migraines, my sore achilles. Sometimes it all takes over. The migraines will sometimes keep me from running and I get very down when I can't run. After attempting to move through it, I finally decided this weekend I would run.
Saturday…was a fail.
But today I woke up and it was snowing.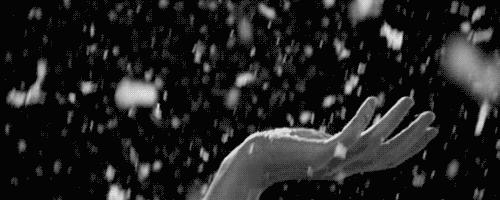 I dearly love to run in the snow.  I had planned all day to head out but different things kept me in.
Finally I got the chance and took it.
The sun was already setting, but the clouds were so bright it lit my path.
I wore a favorite sweatshirt of mine ~a gift from MT~ mittens, a hat and my blinkie.
I hit play on my iPod as I left the house and hit the street.
As my usual runs go, especially my later runs, I was in a very busy area, lots of traffic.   Lights were bright, people had Christmas decorations on and my music was playing quietly.  My run immediately feel good. Smooth and right.  I have traffic lights, muddy trails and inclines that feel like more than inclines. But still I moved confidently forward.
As I turned around to come back I realized how good this run really felt. The cars going by sounded like white noise as they whooshed past me and the water splashed around them. I ran slow to account for the slippery walk in front of me and to just relish in the time by myself.  My music was slower and quieter. Like my running.
I felt strong. I felt relaxed. I felt happy.
I love my neighborhood runs. I may not live in the most glamorous city or the most high end neighborhood, but if I was told I would never travel again or I couldn't finish my marathon goals and could only run these neighborhood streets for the rest of my life I believe I would still die happy.
Fast or slow…run on. For the pure joy of the run.
Music list that I'm not linking because I don't feel like it, I'm going on an impromptu date with my husband instead.
Solsbury Hill by Peter Gabriel
In Your Eyes by Peter Gabriel
Knee Deep by Zac Brown Band
Live and Die by the Avett Brothers
Sunshine by Jonathan Edwards
Only the Good Die Young by Billy Joel
Heartache Tonight by the Eagles
Walking in Memphis by Marc Cohn
A Great Day for Freedom by Pink Floyd
Carry On by Fun