My day today:
Gym day.
I did two miles on the elliptical and then I did LEG DAY!!  Whoo Hoo! Leg day!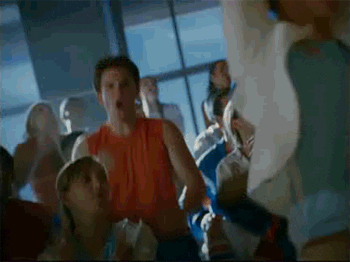 Woke up with a migraine that had to be an eight on the scale of one to ten.
Like…I'm nauseated and kind of want to throw up…hurt.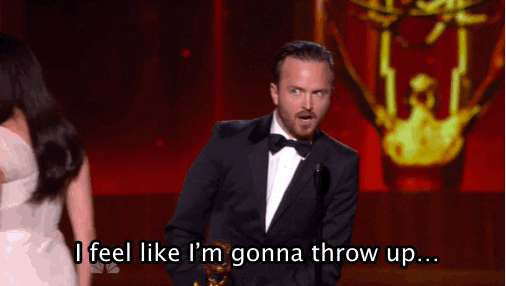 Me, too, Aaron. Me, too. 
Only….no award for me.
Forgot my briefcase (yay me).
Grabbed an avocado for lunch.
Yes, an avocado.  You know if you cut it in half lengthwise it's already in a bowl…scoop it out and LUNCH. AND it's a superfood. So there.
I know, it really qualifies as a snack but I was super busy and that's what I had time for.
Be thankful, usually it's Skittles.
Spent five hours with my head in numbers learning learning learning.
~~~~~
On the way home I stopped at Target. My head was so bad I couldn't breathe right. And the cold hit it hard.
Since I ran out the door without any of these…
I bought a coat. And a hat. And gloves.  Wore them out of the store with the tags still on.
Must have been channeling my inner Minnie Pearl
I almost always have a coat in the car but remember how I raced out to work?  Yeah. me, too.
~~~~~
I'm so glad I got my workout done because I came home, took the impressive ~holy smokes I only have three left~ good meds and went to bed.  Here's how bad it was…
it didn't work.
I got up a few hours later and took a Benadryl. The migraine sufferers secret weapon. Makes you sleep.
Not gonna lie. There was praying involved.
I feel human today. Not great but not awful.
Off to play with numbers.
SO CLOSE TO CHRISTMAS>
I'm so getting things in the mail today or else. PROMISE!
~~~~~
For Christmas I want to be migraineless…
it's a word.
~~~~~
the plan is to go to the gym tonight after work but with my head being so bad yesterday I wouldn't be surprised if it comes back today so one step at a time!
Meanwhile…
Run on…