I got all my packages mailed!  I know, it's like December 19th.  Crazy, right? I have never mailed packages this late before. But I got it done and considering the circumstances I'm pretty freakin' happy~
So much to do.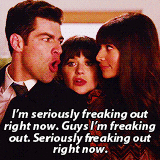 whatever. I have it all under control.
~~~~~
Miss Michelle and I are running a race today.  The Santa Stampede 5k/10k is today and we are heading out to run it. Out is the appropriate word as that sucker is freaking 20 miles across town. Ironically, I could run that. Ha. Just sayin'.
It's far.
Sean says he's going too. Although I did give him an out, explaining it's 6am, 30*, and …you have to run.
He's thinkin' about it. LOL
On the bright side… they give us a Santa hat!
Lord help us…
~~~~~
Gotta run…