Here's a little backstory.
Months ago we decided to stop using our credit union debit cards.  We switched to our credit card (it has a very low limit, easy to manage) so we could limit any financial stress associated with so many bank breaches.  I am not alone. Most of my co workers have done this and many customers, too.
The key, of course, is to be very strict with paying it biweekly/monthly so you don't get stuck with a high balance and no way out of the credit card situation.
In this case, we get miles and points for using it. As you can imagine, we have built up quite a few points due to the fact that gas, groceries, every day sundries and even some bills all go on it.
So I decided for Christmas for my husband, I would take him somewhere. He only ever travels for work and it's just never fun that way.
Hopping online to the CC site and check it out. I can get a great deal on flights with my points.
Trip.planned.
Where's the glitch, you ask?  And why…praytell, are you TALKING about it on your blog?
Because my printer wouldn't work. It was out of ink AND it wouldn't connect. So frustrating.
Ink replaced…plugged the computer in directly…I should be set.
No.
It still didn't print very well.  The ink was acting like it was out…
So I email MT and ask him if he had definitely changed both of them. Then I walked away in that ADHD way I have….and started laundry. And did the dishwasher. And wrapped presents.
And Sean came home. And sat at the counter and checked out all the papers on the counter. To include the itinerary that was mostly readable but just not pretty.
He says he didn't see the destination or the date but the excitement is gone and severe disappointment has taken over.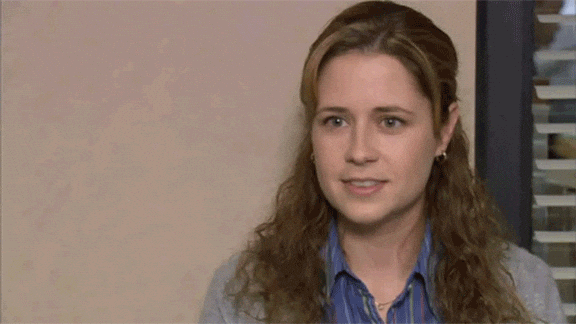 Yes. This is how I feel.  Even though he continues to tell me it's okay…it doesn't feel okay. 
~~~~~
Sorry this post is sad. I just didn't have anywhere else to put it.
I know this isn't a post full of Christmas joy…but I'm working on it 🙂
I don't want to "keep it simple". I love Christmas.
I want decorations up at Thanksgiving.
Lights on the house.
TWO trees…one in the family room and maybe one on the deck with garland around the railing…how pretty would that be??
Christmas shopping done and lots of little presents with BEAUTIFUL wrapping and bows bows bows!
Cookie baking day!  Delicious yummies spread around the kitchen while we watch the best Christmas movies!
Charlie Brown Christmas.  
It's a Wonderful Life
Love Actually
The Family Stone
Oh I could go on and on.
That's what I want.
In lieu of time constraints and life's circumstances…the holiday will not be perfect. But then…when is anything perfect?  Life isn't magazine/sitcom perfect.  We think that's okay.  Because we're so grateful to have our family and to have everyone home.
~~~~~
Run on. And find your peace this week.  It's there.