We started yesterday with a doctor's visit for MT and confirmation my sweet little innocent boy ~::cough cough:: Ha…even I know that isn't true…he is walkin' trouble~well, he has the flu.  Actual real Influenza.  No WONDER we all feel awful.  I've had the flu before (though it was years ago) and it never presented quite like this. Kind of threw me.  I thought we had the world's worst cold.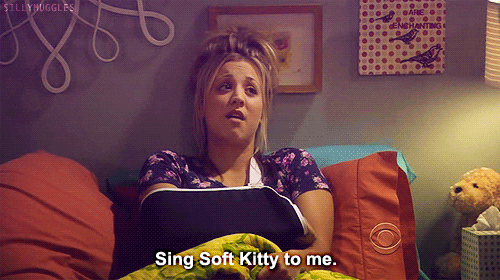 So….
I think maybe now we can start to get better.
~~~~~
For Sean's birthday, since we didn't have Shaughnessy and Adam over due to the aforementioned flu, we ordered Outback takeout and watched television.  It's one of our favorite things to do and it was a really relaxing way to start Sean's birthday week. Plus Sean had an Outback giftcard from my mom lying around.  Perfect way to spend it. Dinner with the kids will definitely be scheduled this week though.
~~~~~
My boss at work is having a baby which leads to minor logistical issues and I am no longer going to be traveling between branches.
This isn't my favorite idea as I've had issues at my current. But I gave myself six months. My birthday….if I don't feel better about the situation I'm going to find a better plan.
It's sad for me because I love where I work but I guess I don't feel very happy there a lot of the time. This brings the question, how happy do you have to be at work?  I mean, is work supposed to be always sunny and perfect?  What are my expectations?  I should maybe consider that because hello…it's real life.  No one actually loves every minute of their job and I have a great job with very good flexibility.
Time could totally make it better.  I am perpetually told there are good changes and I need to be patient. On those days when you walk in the door and everyone is already irritated with you and they stay that way all day…those days aren't as often as they used to be thank the Lord….but it does make it hard to want to go to work the next day.
Again…time could change that.
I'm  skeptical.
~~~~~
About 3:30pm, I thought it was interesting I actually noted the time on this one…I felt fine. then about 3:35 I had what could only be scaled at a 12 on the migraine scale. No clue where that sucker came from but I was sick and fast.  I had to take some quick meds to try and save the day, stuff I don't usually take at work but I was lucky and they didn't knock me out. They just brought it down to a 10 and I was able to get home.
Those kind of days are the scary days. No warning, no clue, they just come out of nowhere.
This morning I'm mostly better.  I'd say it's a normal 5 and I'll take that. I'm just going to baby it all day long!
~~~~~
I spent some time reading this morning. Sean  just finished reading a book called The Lord is My Shepherd by Harold S. Kushner. He found a chapter in it that brought to mind my friend and how we're processing losing her.  It was a really good chapter and several following it frankly. I may end up reading the whole book.
~~~~~
All in the Hips
Strengthening this joint could cure your injuries.
Runners who are looking for the cause of their foot, ankle, or knee pain may need to look higher. Weak hips are often the culprit behind patellofemoral syndrome, Achilles tendinitis, and iliotibial-band syndrome, according to Reed Ferber, Ph. D., director of the University of Calgary's Running Injury Clinic. "Inadequate hip muscle stabilization is a top cause of injury in runners," he says. "The hips need to be strong to support the movement of the feet, ankles, and knees." –Runner's World
This is so true and I always know how much I need to strengthen my hips and work my ITBand but with my achilles so angry at me right now I know I have to step.it.up.
I feel like I've lost all my fitness from the last three weeks of being sick.  Since I'm still not 100% and clearly migraines are going to play with me, I think I'll work on the yoga again for a week or so.  If I do anything else, it'll be elliptical. I'm going to take a little break from running so I can get stronger running. History says it works.
~~~~~
Run on…baby steps.