I'm just talking about shopping.
First thing I did this morning was get my nails done.
Oh my GOSH it feels so much better. My nail beds get really sore when I go too long and my nail polish peels off. So unfriendly.
After that (french manicure with pale pink…so pretty 🙂 ) I thought…all the errands, what should I do first?
I blew them all off and went to TJMaxx
Well…that wasn't happy.
They apparently don't have the heat on during the night so when you're there first thing in the morning it is ARCTIC.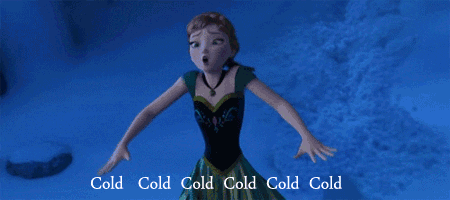 So I went there with the intention of looking for a few blouses for work and it was so freaking cold I thought it must be a new marketing scheme.
I couldn't get away from the sweaters.
I didn't buy any, I really don't need any sweaters right now…
I KNOW! I restrained myself. And some of them were clearanced, dammit.
It was incredibly difficult to not grab them all and run to the register because they were all so beautiful and soft and pretty and warm.
Let's just reiterate. Warm.
It was freezing in there.
I couldn't even concentrate it was so cold.  The displays at the front were taken over by workout clothes (January resolutions anybody?) and I was sucked in by the cuteness.
I did find one cute tank I couldn't resist putting back so I spent my $9.99 and ran out the door as quick as I could.
I can't believe I was warmer outside than inside.
I was 30 minutes early to work because I just didn't want to be there any more.
TJMaxx fail,  People.
~~~~~
Came home and crashed with a major headache.
I did my calf raises…
calf drops
Advil
ice
foam roll
You're not supposed to run until your achilles are completely pain free…
But man I'm over that game.
I miss running.
~~~~~
Gotta run…