This was a migraine day and I don't want to think about it anymore. Just let me remind everyone…
Don't forget your cell phone. It really does make your life so much easier.
~~~~~
So let's play a game of : What's in YOUR wallet?
Only what's in your handbag I guess?
There's such a difference between runner bloggers and fashion bloggers. What do you suppose you'll find?
I am a bit of a mix.  So let's see what there is…try not to judge me
Here's my current handbag.
My handbag is a Liz Claiborne.  I got it at a thrift store for $3. It's pretty small, it fits my wallet exactly in width and my wallet is just big enough to hold bills without folding them. I can't stand scrunched bills. Probably the teller in me.
I'm VERY selective what I keep in the handbag because it's so small. But…it does reach a point (and today was that point) where too many days of "I better have that just in case" becomes time to clean it out.
So in no particular order I found the following in my handbag:
1. Meds: I condense in an empty bottle whatever I need for the week. Migraine, thyroid, vitamin, etc. One bottle does it. I know they have cute containers, and I have those. But sometimes I just grab what's handy. That was this week.
2. Two sets of keys, car and work. (I have three…two different work sets, but I keep them in different places, that's a good time, too)
3. Five business cards to include~ Celiac Dr, migraine Dr, chiropractor for running, Rocky Mountain Chocolate Factory stamp card (caramel apples yes please!!), and my insurance card.
4. Neosporin. I cut my finger two weeks ago and the dang thing didn't want to heal. I took to carrying it with me.
5. Pictures. Sean, Montana, theboy. Those randomly circulate depending on which ones I find in the kitchen drawer and gush over.
6. Under Armour sunglasses. Finally found a pair of running sunglasses that weren't $200.  Yay me 🙂
7. Chapstick (technically…Softlips)
8.  Clinique Almost Lipstick Black Honey…I've had it off and on for years and I'm always happy again when it's on.
9.  SD card. Pretty sure it belongs to a friend. I need to put it in the mail. 🙂
10.  Highlighter. I  was using it on my list and somehow the list didn't make it into the bag but the highlighter did.
11.  Hm. What appears to be seven pens. Because I don't check to see if I have a pen so I always throw one in there. Resulting in what you see here…
12. Not pictured: my phone. 99.9% of the time that phone is in there. It just is.
~~~~~
There are several things that didn't make the cut.  But I keep a few things either in the car or in a bonus bag that I'll carry with me because I'm always stopping to run errands. I have a blog notebook, a running list…not a list about running, just a running list…ever changing, a calendar that I sometimes grab if I don't feel like using my phone, and whatever errands I'm running~ that stuff will go in there. But I have to be able to grab my wallet and run in the store. I have no interest in having a purse the size of Cleveland…
AS NICE AS I'VE HEARD CLEVELAND IS!! 😉
That's Miss Erin over there…she's really really nice.
~~~~~
According to my little Fitness gadget, I didn't get my 10,000 steps today.
I am beyond sad.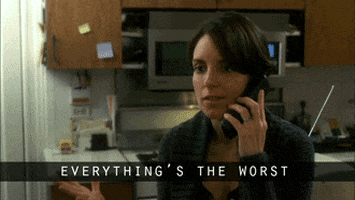 I need gadget therapy.
But I know I did get the steps in…
It just didn't record them.
I don't actually know how to process this information.
I feel like there's a void in my life.
Between 11:30pm and Midnight specifically… 🙁
Just…nothing.
And this, Folks, is how people get addicted to these things.
Schedule that intervention.
Well, it's a new day…
(hey…it really is. It's like…2am)
So time to get moving towards new goals and brush aside the old that weren't actually recorded though we know full well we got the job done dammit.
Tomorrow (today) Sean and I are supposed to go hiking. It's beautiful in Colorado right now because we're all right smack in the middle of global warming so damn there's no winter. 70* in February.
I'm not worried.
But since I can't actually change anything today..I'm hiking the mountains and enjoying the weather before July hits and it's 123*.
Happy Saturday~ 🙂
Run on…