It's Friday.
We are about to get MASSIVE snow.
HUGE
INCREDIBLE>
I am prepared.
Grocery shopping done.
We are going to hibernate in the house for the weekend.
I have one more stop to make after work and then we're good.
We're out of cheese.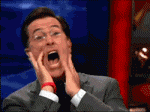 Alex  can't live without cheese. His world may end.
So I'll be stopping at the store for that. Then I'm good.
~~~~~
Sean and I have a strict policy when we leave hotel rooms.
Crawl around on the floor. Look under everything.
Look in closets and drawers.
Under beds and chairs.
cracks and crevices.
This is a great policy and we've never left anything behind except MT's pillow.
In our defense, it had a white pillow case and matched the bed and hello…it was MT. We figured the OCD kid had that under control.
I mean, we have to shower afterwards because we've crawled around on hotel floors but hey, we leave with all our stuff. 
This time, however, we were in a rush to leave and my brain had shut down completely.
I totally knew it wasn't working and even recognized I was leaving the room without my usual check.
Alas, we left  an entire bag of clothes. Ridiculous.
At least it wasn't just me.  Sean left stuff, too.
I KNOW.  I am CRAZY neurotic about hotel rooms but Sean is crazy neurotic about his stuff. The man  never loses anything.
So he's going to Boulder after work to get all our things. ::shakeshead::  That's no embarrassing at all.
I am hoping to zip home from work and super fast go for a run.
Don't misunderstand. My run won't BE superfast.  I just need to get on the road as quick as I can before any really horrible weather hits.
Worst case, I'll treadmill. Thank the good Lord for the treadmill.
Then relax in my slippers and sweaters.
~~~~~
I did 30 minutes of yoga yesterday morning and just a quick two and half miles on the treadmill about 11pm last night.
I feel so bad for everyone's weather. I hope you all are staying warm and dry.
And if you are in warm climate…
It's really in your best interest to not share the weather update. Just a healthy suggestion.
~~~~~
Run on…