I got up early enough to take the puppy for a quick walk (he's not running much. His leg hurts) but half way through it the rains came.
So we turned around and headed back.
I think Malachi wanted to know what the what…why was he losing half his walk? But he does NOT like to be wet so he did kind of figure it out pretty quick.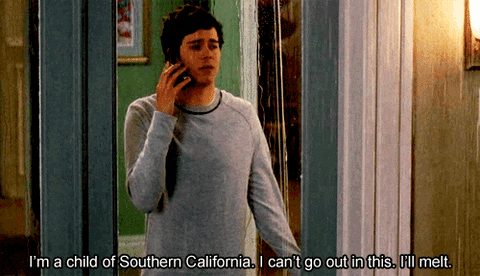 That's so Malachi…
~~~
I came home and slept. Yep. I slept. I'm just going to have to water/sleep this Celiac gluten event away. It's working okay so far.  I got up and went for a quick 4.5 mile run (that felt pretty good, it's SO nice out and how much do we love how long it stays light?…) and came home to my boys! **bright side..my head is better today
Randomly…my miles are fast but I did have to stop and gasp. So…I think maybe inhaler again for a little while. Until I'm better. And try and slow my little self down.
I never get to see the guys so it was awesome to spend some time with them…short though it was.
Alexander was getting his laundry and MT was just hanging out until he goes to a friends house.
I know, he lives here. But really he's hardly ever here. Its nice because my introverted little self gets lots of time alone and then I periodically get time with company. It's really the perfect relationship.
~~~~~
Protein shake.
writing.
squats….
Many many squats
Not in that order…
and finally upstairs to torture myself with stretching. SO much stretching. 
Until tomorrow morning when we
***wash rinse repeat***
Totally worth it.
run on…