My head hurts.
Miss G and I ran our 5.6 today only we really only ran 4 I think and then …
sigh…
gasp…
both her feet started to hurt on the outside edges.
We immediately stopped and walked but I said no more running. No more walking.
Icing.
Advil.
See your chiropractor.
(she works for him, so…yeah. It's easy to see him)
And we'll see how it goes.
I said a silent prayer that my feet don't give me problems as long as I'm careful. I think God figures everything else gives me a hassle and my head is bad enough, he'll take it easy on my feet.
I told her to yoga tomorrow. We'll see how she feels for Saturday but I think she'll be yogaing (it's a word) for the next week and she won't like me.
Suck it up Cupcake.
You know, I was looking for a GIF that said "suck it up Cupcake" (yes, I do that. I think people have said all the things I say so there MUST be a GIF for it. There really isn't but I always look). Instead I found this little GEM: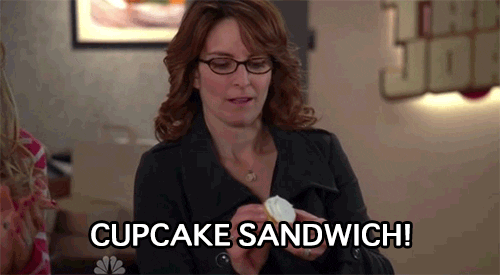 I have been doing this for YEARS!!!  I have taught many a fellow cupcake eater the wisdom of my cupcake eating style. I am astounded that Miss Tina Fey knew how to do this TOO.
We must be soul sisters.
Also, I want a cupcake.
~~~
I've been messaging like a fiend with Miss Katrina and Miss Kristen (otherwise known as Miss Katareena and Miss Kristine to those people who can't pronounce their names…LOL) in preparation for our big trip to Estes for the Rocky Mountain Half Marathon next weekend (August 1st). We are SO EXCITED.  I'm excited to hopefully be able to spend three days not thinking about banking.
I have done a lot of running but not a lot of hills and not a lot of long mileage so this will be a surprise half marathon but I just don't even care. I love this race and this race company and we get to have great fun for the weekend. So I'm going to not stress about it and just have a good time.
~~~
This is it. It's so true. No one else is going to do it. No one else.
Run on…