It was cold.
This morning. Yes. It was cold.
I'm not complaining because Saturday it was freaking hot. But this morning Miss G and I nearly froze in the arctic cold. It was only 51* but man it felt like 40*. I don't think I really ever warmed up on my run. My hands still aren't working right.
We got our 5.5 miles done with a little extra walking and I stopped and stretched at the end. My achilles don't like me. We're taking it slow.
And praying. 🙂
~~~~
Miss G and I are Ready for Saturday!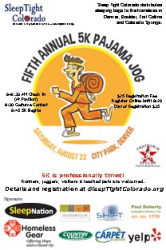 Again…we will not be wearing pajamas.
~~~~~
I foam rolled until the wee hours of the morning and when I went to bed it was taken over by the animals. So I slept in the spare room.  When I woke up an hour later…the animals had come to join me! True puppy and kitty love.
I'm off to my 8 millionth doctor appt.
I should be a doctor by now.
~~~
Run on…