Happy Veteran's Day and a giant thank you to all the Veterans but especially the ones I'm personally attached to. You know who you are. I love you much.

I ran four miles at the park on Monday. It wasn't too cold and it was nice and quiet. There were lots of people walking there dogs, enjoying the evening, smoking pot…you know. The usual. My Achilles hurt a little…but very little. Mostly it just felt good to run. Too good probably because I started my run with a 10:47 pace and my ending mile was a 9:48 pace. So I warmed up nicely…and was a little too speedy for my own good.  I have to be careful or I'm going to get myself in trouble.
Last night I walked four miles with Miss Hollie and it was BEAUTIFUL. The night was warm (it was nearly 70* yesterday) the people at the park were cheerful and friendly and it was a perfect evening for a workout walk.
Then this morning we had a Denver blizzard so…yep. Apparently God didn't like my sarcastic report about his LAST snow and thought he'd show me what real snow looked like. You'd think God would know sarcasm when he heard it. The snow did stop finally and it's melting furiously because…Denver.
I will not be running outside today … probably. But maybe. It's TBD (to be determined for those of you who are acronym challenged. Oh…that's just me? Well then nevermind)
I have to go run errands now that it all melted off. Also…I could use something delicious to eat. Like Cake. It feels like a "must capitalize Cake and eat it" day. Ever have that day? I think I'm having it. Pumpkin spice…oh yeah.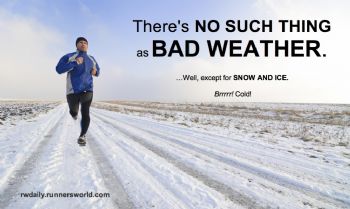 Run on…or not. Everyone deserves a rest day. and if you live in Denver today is as good a day as any.