It's a sad day when you have this revelation.
The doll's name is Fawn.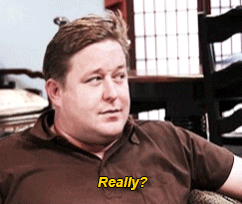 yeah, that's what I said.
I think, anyway. Her hair is REALLY red. But her eyes are very brown so…I don't know. Maybe her hair is bleached from all those months at the crime scene. That's what you get when you google but you don't investigate further. So.wrong.
I am sad.
Really, Fern is much better. Maybe I'll stick with Max.
Pfft. Fawn. ::shakeshead:: What a freakin' weird name.
What do you guys think?
Let's take a poll:
1. Fawn
2. Fern
3. Max
4. Other (of which you have to tell me because "other" is a stupid name and no it's not happening -eg. Boaty McBoatface
*****
Yesterday I had a craving. Truthfully it was for Carrot cake but realistically I just didn't have it in me to make that from scratch so I didn't even attempt it.  I bought a little gluten free yellow cake mix and baked it in my brand new 6″ cake pan from Wilton and holy COW that's a great pan. It made the freaking cutest little layer cake and it fit on my tiny little pink cake pedestal and I very nearly didn't eat it.

I know you guys were all like…did she eat it??? On the edge of your seat with anticipation.
But of course I did. Because…cake.
*****
Now, there should be a link to the following story, however, I ACCIDENTALLY got ROUTED to this story and there will NOW BE A BREAK FROM MY BLOG TO ALLOW FOR THERAPY for the next month because NOPE NOPE NOPE> So rather than even subject my loyal readers to what could only cause them pain and suffering I simply stole the headline and I will allow the source in there. DON'T CLICK THE SOURCE LINK or you WILL BE GREETED WITH UNFRIENDLIES> Consider yourself warned.
Park Rangers in Santa Monica Mountains Ask Hikers to Be Aware of Tarantula Mating Season – source
NOPE
I learned two things from this headline. Possibly more than two.
I will never ever in my whole life ever ever EVER be visiting the Santa Monica mountains.
EVER
it's possible to get physically nauseous from a photograph
I don't care about anything else. Time to change the subject. ::shudder::

GROSS
*****
This blog is so delicious and wonderful. You should read it when you are sad. It will make you so much happier. He had to restart it because it became so popular so if you scroll down a little you'll get to his first day at Target and his view as a cashier.
****
It's Mark Harmon's birthday. ::swoon:: I love him.

Don't tell Sean. It's okay. He's been too busy to read anyway. He didn't know who Max/Fern/Fawn was.
No Forgiveness.
*****
I just turned on Friends and it's the episode where Monica's credit card gets stolen and the person is living this adventurous life on Monica's dime.  Monica decides she's not doing enough and she should live more. This is the best episode. We all should live more. We should definitely dance all the time. 
I love to dance and if I had my way I would dance every single day.
I would dance in the kitchen.
And down the street.
And on the deck.
And in the grocery store. Everywhere.

Also, this is the episode Joey decides he should change his name for his craft as an actor and if that's not comic brilliance I don't know what is because I nearly died laughing and this was a night I needed it.

****
We had ridiculous wind all night long on Thursday and running Friday morning was really out of the question. I had no time.  I spent several hours on the interstate coming back from Colorado Springs (hair appointment) due to an
accident…about 50 of us just pulled off in Monument and went to Starbucks.  By the time I got home I think my inner self just too exhausted from the day. The whole day seemed off and I couldn't seem to grasp why. The universe seemed off so I went to bed.
When I don't get to workout (I was just telling my sister this) I get sad. People react different ways but for me it's sad. I cry easier. I get quiet and I definitely get more tired and I need to sleep and feel the need to regroup. I really just need a run. A run and a good solid adventure. Life is too short to not adventure regularly.
By the time you read this, it'll be Saturday morning.
This is a new day and a new running experience.
Let's get moving.
Run on…