Sean and I just got back from Virginia where we went to visit our sweet youngest kid, MT…a Marine who loves to be called a kid, while he's at school. He got a "96" which is 96 hours off. He asked for "special lib" which is special liberty, so he wouldn't have to hang out on base the entire time and we went and did our own thing.
How cute is he?


I have much to talk about but it'll take me a bit and since I'm sitting in the airport.
Instead I'm going to share my "prep" for the trip which entertained me for sure, if only me.
Okay, I'm really only going to share my hunt for shorts.
I needed shorts. Nothing fits me, I'm shaped weird.
I have a short waist.
Truthfully I have no waist.
I have runner's thighs (not elite runners…sadly). They are thick and always have been.
I have a bum.
Places I need work… (all of the above)
I need to whittle in that little waist…
those thighs could use some …fine tuning…
And the bum. Oh the bum. Well let's not go there.
What I need:
I prefer a low rise but not too low and I can handle a mid rise but not too mid. (could I be any pickier?).  I have a scar smack across the middle of my stomach that looks like a centipede that is from an emergency appendectomy during my last pregnancy, at least one Marine ago.  But when pants rest on it, it's very itchy and sore. So I prefer low rise. One of my sisters once told me she loved low rise, the lower the better because then she could get a smaller size! Good Lord the things you remember.
So I needed shorts. I'm stuck somewhere between an 8 and a 10 because of the no waist and the bum thing. It's quite sad. So I shop and I shop and I shop (oh my Lord the stores I went to) and I even tried clothes ON. I never do that. I buy things, bring them home, if they don't fit I return them. Unfortunately I'm having such a devil of a time I would have lived at the store. So I started trying them on.
I shopped at:
Goodwill (success! Two pair!)
TJMaxx (so much love…my perfect shorts)
JCP
Dillards
Target
Ross
ARC Thrift store
A couple other thrift stores…
Old Navy
Nordstrom Rack
And probably a few other random stores I can't remember.
So here's the deal…as you can see I had great success at the thrift store and at TJMaxx. At TJMaxx I found a pair of American Eagle shorts that were so freakin' comfortable I could hardly stand it they felt like pajamas. I was on a mission. Off I went to two more stores to find them but no…I had bought the only pair in existence. So I dove in and headed to American Eagle…the teeny bopper store. The store for children. The store for young people who wear no clothes. The store that sells a "sweater" that is in fact…a tiny halter top type thing.
I walked in the door and was immediately assaulted by someone asking if they could help me and I showed them my shorts and said I must have more. She pointed to the display in front of me and said these were the same shorts. I bought two pair immediately.
When I got home, however, I discovered they were totally NOT the same shorts.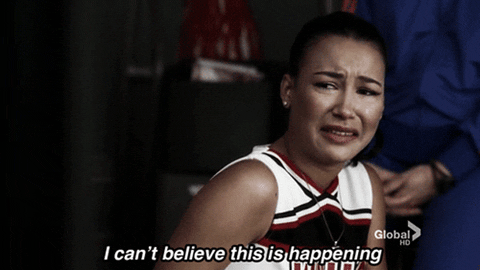 Not gonna lie, I was sad.
So I hopped online and found what I was looking for.
Now at this point I only have about five days before we're leaving for our trip and I'm getting pretty nervous. So I ponder my choices and sweat about it for a while (overnight-truth be told) and finally bite the bullet and hit the "overnight" button which is in fact…$20 extra. I had free shipping so it just made it $20. I KNOW> JUST.

I gasped, too. I've NEVER spent that on shipping before but I was pretty worried.
l bought them on Sunday which would deliver them to me on Tuesday. I used a card I used to have attached to PayPal but just the week before it had been hacked. Since I'm constantly online I had caught it very quickly and they had cancelled the transactions and issued me a new card. This is important later.
Tuesday came and went. Wednesday it crosses my mind…huh…where's my shorts?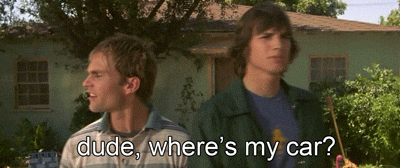 I hop online to chat with them and I get Aric. Aric says "yes!" He sees my order! It absolutely will be delivered in ONE BUSINESS DAY! As soon as the payment is verified.
Um….what Aric?
As soon as we have processed and verified the payment we will "totally ship your items to you in one business day!"
Seriously…what Aric? What does that mean? He just kept repeating it. I finally asked for a supervisor which he would NOT GIVE ME> Because he wanted to see my HEAD EXPLODE with frustration.


l started screen shotting his conversation and then I TOLD him I was screen shotting his conversation and I INSISTED on speaking to a supervisor and also I got on the phone to the customer service people who were really REALLY nice.
I got Matt. I told Aric and the supervisor he had finally produced that I was done with them and had moved on. I told Matt what had happened and that~ Dude..I need my shorts. He laughed and said, "let's find them!"
He immediately figured out that my new card had not been verified on PayPal yet so they weren't shipping the items because they thought the payment was hinky.  I gave him a different payment. Thanked him profusely. Asked him why they didn't CALL ME. He said yep…they should have. That was totally the problem. Also, he said Aric had attitude and that was not okay. He was REALLY sorry and took half the cost off (free shorts!) And gave me free overnight shipping!
Matt does customer service right. We like Matt.

Also, I had a lovely chat with him and know most of his life story.  (Hey Matt!)
This turned out to be a really good experience and I am glad I did it. Yes, I have American Eagle shorts but I love them so who cares. I have three pair. One pair of white (I love them) one pair of black (I love them) and one pair of khaki and they're not bad. They go with everything but they aren't the most flattering color on me so I'll wear them but they won't be my first choice. But they fit great and that is definitely the most important thing.
~~~~~
We had the best time in Virginia with MT so tomorrow I'll tell you guys all about it.
Meanwhile I'll d a HIIT workout today or some strength because it's been days without strength and I long to remember what muscles are again.


Run on…