I bet you're all thinking…where has she been?
Sleeping. I've been sleeping.
Mostly. I slept in on Thursday.
I slept in on Friday.
I slept in on Saturday.
I slept in on Sunday.
Do I feel better?
Kinda? I've been really off and crashing and I am not sure if it's because I somehow ingested gluten or if it's because I'm just really tired. It has all the symptoms of gluten and it's lasting that long. It's been weeks. But I haven't been eating much these last weeks so who knows.
I'm feeling the need for real food right now so I'm going on a "real food kick".  Pretty sure that means more groceries and probably meal planning.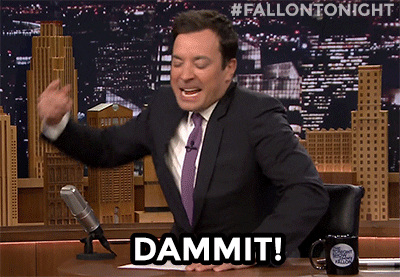 ~~~~
I'm responsible for my own time card and I'm pretty sure I'm the only employee that's not on salary. Figuring out the paydays is like Algebra.
You think I'm kidding, I gave the calendar to my husband – who is the smartest person I know- and he looked at it for a half an hour. We figured it out finally and at the end he said, "that was such a cool puzzle!"
That is now my life. Why am I bringing that up? Because I did my time card wrong and I got shorted five hours. Only I didn't. Because I did it wrong because I don't freaking understand the calendar. I need time card 101 apparently.
My payroll person said she didn't get it on time anyway so she just paid me for 40 hours. It's not a big deal and after looking at the calendar it's probably right but it's sucking away my mental energy to figure out my time card. What is fun about that?
~~~~~
What a great story about Jeff Goldblum. Entertaining as all hell and presentation is kind of awesome, too.
~~~~~
I kind of feel like I'm getting caught up. I know I said that last week but this week is the insanity week so if I can  get caught up I might finally have a handle on this place.
As soon as I do that I get a situation like what happened this morning.
Yesterday we had someone come in to the church looking for help. We can't help everyone, we just don't have the money. But this girl needed just a little hand and our priest agreed to get her a motel room for the night. He tried everything with this motel and nothing worked. Finally he ended up faxing over all kinds of personal information in an attempt to get the room secured and, tired and frustrated, left church with all of us in tow and confident we were set.
Today I arrived at church to find the girl at the door. The room had been refused because there had been no authorization from him or some other such nonsense.  I got on the phone and asked what the situation was and they couldn't tell me.  Nobody knew anything. It was like the Twilight Zone of  motel information. Also, no one has any idea where the fax with my bosses info is. Because it's not their information so it's not that important. They want the information faxed again  (no and no),  the girl who handled it was out until Wednesday. An hour and a half later, I'm still waiting, the girl is still waiting, no one has any answers and I called them back for the third time. The woman on the phone said, "are you aware this girl caused damage the last time she stayed here? She's not welcome on the premises again!" and she was pretty short about it.
um. what? could we have our three hours of time and our fax paperwork back?
And she passed me off to someone and said I was "upset" translation…  rude. I had been really nice. Just because you're definitive in what you need (my bosses really important paperwork) does not make you rude. And my being rude to you is not my biggest problem anyway.
I finally said, "this has been incredibly disappointing service.  We've been talking to you guys for two days, faxed over incredibly personal information and no one told us this. We're a PARISH. How could we possibly know what happened at your hotel? And why wouldn't you tell us that on the first day?"
She said, "I wasn't there the first day, it took some digging to find it, obviously!"
I'm not sure why she continues to think I'm in her head but I'm really not. None of this is obvious to me.
I was rather dumbstruck and said…please have your manager call me tomorrow when she gets in. Thank you.
I was really polite. And then I was stern because COME ON>
It was very frustrating. I am left with no information, no magic fax and a girl with no hotel room. She was nice about it.
That was my morning.
~~~~~
I have 472 other things to do and am just now getting to them. My goal today is to finish a task and leave relatively on time. I'm three hours behind now. Schedule is totally working!
My payroll manager came in right in the middle of it and told me about the time sheet mishap and I thought…what about this says talk to me about this now. And also, I don't care. I work 50 hours a week and i get paid for less than half that. Just give me a paycheck. It's fine. I finally did say to her that it was fine, I didn't care.
She seemed surprised but I said I just have too much to do to care. I'm too busy.  I did not tell a lie.
~~~~~
#myworkoutwas
I concentrated on some yoga all weekend because my muscles have become non-existent. I did a little yoga this morning and after work I'm going to go for a quick run.
Climate change has kept all the snow from Denver and I do miss the moisture. #dryandcracked describes my skin but it makes for good running because oh the lovely temperatures. It is a high of 77* today. It's actually depressing. It's depressing.
I was supposed to go hiking with Michelle (withdrawal!) but she had a family situation come up and couldn't go leaving us both going through hiking withdrawal. I miss the incline.  Meanwhile…
Run on…