I bought new jeans and I was so excited by how comfortable they are I immediately headed out for a second pair. They're a lovely straight leg, size eight, but the problem is they have enough stretch that a second person can share the jeans with me after about 15 minutes.  I'm not kidding when I say holy wow there's a lot of stretch in these jeans. A ridiculous amount.  My logical self said, "self…buy the size 6's.". I looked it up and it looks like they have 3% Elastane. What is Elastane? Whatever it is it's very stretchy.  So I logically bought the size 6's but don't worry. My brain wasn't in any way allowing myself to actually THINK I wear a size 6. Pretty dead on a size 10 still. Stupid sizing.
Well. The size 6's? yeah…they … kind of fit  but… not. They fit  but did not then stretch out to be magic size 8's. They just fit. So they kind of feel tight. Uncomfortably tight. I wore them an entire day…still tight.
In case you're wondering, yep. Same style. Just in the 6's. So frustrating. The 8's?…SO BIG.
I give up. Mom jeans it is.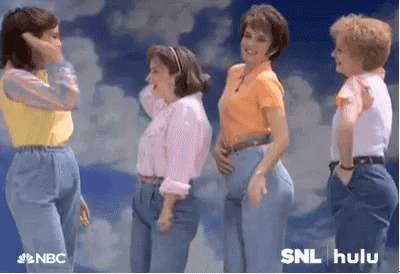 ~~~~
Sometimes I write small notes to keep track of  interesting little facts (i.e. things that happen to me that aren't actually interesting but I don't have a life so you get to hear about them anyway) that I might want to tell you about later. I found this written down on a slip of paper…"I had to use scissors to open my juice". I have no idea what this means. I don't drink juice. Why would I use scissors to open the mythological juice that I don't drink? Is this a Celiac thing? I really have no idea at all. But it was apparently worth noting…
It's been two days. I still have no clue. The puzzle hater in me hopes I figure it out soon.
I've started every morning with yoga for a half an hour and this is especially good for my head and shoulder. Not dandruff, just headaches and shoulder aches. I sleep stupid. But oh the yoga stretches feel SO GOOD.
I need to expand my yogaing. There's a term for that but I'm not looking it up. I have a pretty basic routine that keeps me very busy for 30 minutes but I'd like to add some different moves without actually getting into crow post. I don't really have any interest in crow post.  I will straight up hurt myself doing that. Can't you see me totally tipping forward? Me, too. Thanksthough…

~~~~
I ran yesterday for a quick two miles and it was divine…DIVINE. This was on the heels of my yoga so my day was pretty freaking great. I haven't been sleeping and I've had some things on my mind so I really needed to get out and get running.
Today I headed right out of work while I was still light out so I could get another run in and it RAINED.
I will run in snow but rain in 40 degrees is just not even funny,
So no.
Just yoga today.
Run on…