I know you all are thinking…she's TOTALLY going to talk about running today. But no, I'm TOTALLY going to talk about how our president has completely and absolutely lost his mind.
Otherwise known as Tuesday in America.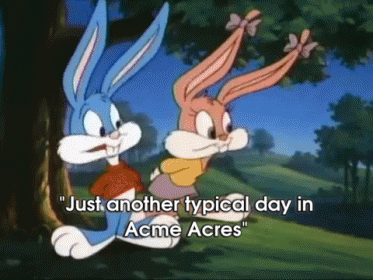 I don't even need to talk about it. We know he's  not rational and if you have doubts about that, just read his tweets. 
~~~~~
Yesterday morning my cat killed a bunny in the backyard. It's okay Mom, Skosh told me he was an older bunny, had seen the world and backpacked through Europe and when he saw Skosh looking askance at a younger bunny he threw himself selflessly in front of said younger bunny as he felt his life was complete and it was time to go to bunny heaven.
For the record we love the bunnies and highly encourage the bunnies to avoid our yard by yelling "run bunnies! Save yourselves!" and this does not cause the neighbors to look at us strange at all. The bunnies, also, don't really seem to listen. We don't lose a lot in a year but a few for sure before word spreads in the bunny neighborhood and they hang out somewhere else. Circle of life, unfortunately. Damn cat, and yes, sometime the dog. They work together as a tag team.
Since it happened first thing in the morning I couldn't let them out all day because I don't do that task, Sean is the angel that does that. But he didn't come home from work until pretty late so they were trapped in the house. My gosh they acted like six year old's with chicken pox. They made me crazy.
~~~~~
I had a migraine yesterday  and thought I'd workout in the evening and by the time Sean got home I was faltering (Sean got home late). I didn't want to go to the park by myself because..hello please mug me…so I waited a few minutes.
A few minutes turned into a few hours when I accidentally fell asleep. I blame the drugs.
The result is that I chose the day to be a rest day and we are moving on now. Moving on…brush Tuesday away.
~~~~~
This is good for all of us to remember. Progress is progress be grateful for even the little improvements because we're still better than we were yesterday. Get stronger.
Run on…